Titel:

The Pink Floyd & Sid Barrett Story

Titel(orig.):
The Pink Floyd & Syd Barrett Story
Genre:
Regie:
Darsteller:
Produktionsjahr:

2005

Produktionsland:

England


Inhalt:
Includes the acclaimed documentary and three hours of DVD extras with unseen, unedited interviews with Roger Waters, David Gilmour, Rick Wright and Nick Mason THE PINK FLOYD & SID BARRETT STORY 2 DVD Syd Barrett is a major cult figure and rock music legend. The charismatic and brilliant lead guitarist of the early Pink Floyd, Syd Barrett created a unique psychedelic sound and wrote wonderfully eccentric songs, including the hits Arnold Layne, See Emily Play and Bike. Syd Barrett's name passed into rock folklore when he quit Pink Floyd in 1968 and after two extraordinary but erratic solo albums, disappeared from music altogether amid rumours of a drug-induced breakdown. Pink Floyd went onto worldwide fame, but the absent Syd remained painfully present in their music and lyrics, most famously with Wish You Were Here and Shine On You Crazy Diamond. John Edginton's documentary "The Pink Floyd and Syd Barrett Story" tells the full, bizarre, tragic, but also celebratory story of Syd Barrett with contributions from friends, managers, lovers and of course the members of Pink Floyd - Roger Waters, David Gilmour, Nick Mason and Rick Wright. When it was first released, reviewers praised the film for "its unusually intimate interviews" (The Times) with the band. In this new definitive edition DVD, lengthy sections of those interviews are now made available raw and unedited, alongside the original documentary. The three hours of DVD extras also include acoustic performances of Syd's songs by Robyn Hitchcock and ex-Blur member Graham Coxon.
| | | |
| --- | --- | --- |
| | Aktuelle Angebote oder ähnliche Artikel, die Sie interessieren könnten | |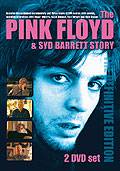 Titel:
The Pink Floyd & Sid Barrett Story
RC/System:
RC-2
Anbieter:
Icestorm Entertainment
Laufzeit:
236 Min.
Cover:
Keep Case (Amaray)
Veröffentlichungs-datum:
20.01.2006
Anzahl Disc:
1
EAN:
4028951690756
Sprachformate:
Englisch: DTS 5.1,Englisch: Dolby Digital 5.1
Untertitel:
Deutsch, Englisch, Holländisch, Italienisch, Französisch, Spanisch
Bildformat:
4:3 Vollbild (1.33:1)
Extras:
Biographien Crew
Kapitel- / Szenenanwahl
Interviews
"I love you" Track mit Graham Coxon
Easter Egg
Discographien
Time-line
Quiz
Altersfreigabe:

| | |
| --- | --- |
| FSK-0: Freigegeben ohne Altersbeschränkung | |