Titel:

Rock & Roll Cinema - DVD 01 - Walk The Line

Titel(orig.):
Walk the Line
Genre:
Regie:
Darsteller:
, , , , , , , , , , , , , ,
Produktionsjahr:

2005

Produktionsland:

USA


Inhalt:
Es war das Jahr 1955, als ein unscheinbarer Gitarrenspieler, der sich selbst J.R. Cash nannte, in das bald schon sehr berühmte Sun Studio in Memphis marschierte. Der Moment sollte die amerikanische Kultur nachhaltig beinflussen, denn mit seiner dunklen Stimme sang er intensive und aus dem Leben gegriffene Songs, wie man sie zuvor noch nicht gehört hatte. Es began die Karriere des Johnny Cash, mit der er den Weg bereitete für Rock, Country, Punk, Folk und Rap.
| | | |
| --- | --- | --- |
| | Aktuelle Angebote oder ähnliche Artikel, die Sie interessieren könnten | |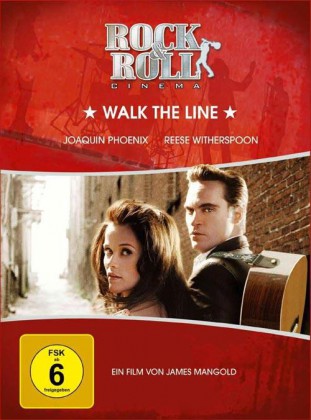 Titel:
Rock & Roll Cinema - DVD 01 - Walk The Line
RC/System:
RC-2
Anbieter:
Alive AG
Laufzeit:
106 Min.
Cover:
Keep Case (Amaray)
Veröffentlichungs-datum:
05.03.2010
Anzahl Disc:
1
EAN:
4042564003727
Sprachformate:
Deutsch: DTS 5.1,Deutsch: Dolby Digital 5.1,Englisch: Dolby Digital 5.1
Untertitel:
Deutsch, Englisch, Türkisch
Bildformat:
16:9 (2.39:1) anamorph
Extras:
Kinotrailer
Kapitel- / Szenenanwahl
Animiertes DVD-Menü
DVD-Menü mit Soundeffekten
Audiokommentar
Nicht verwendete Szenen
Altersfreigabe:

| | |
| --- | --- |
| FSK-6: Freigegeben ab 6 Jahren | |