Titel:

Night of the Living Dead

Titel(orig.):
Night of the Living Dead
Genre:
Regie:
Darsteller:
, , , , , , , , , , ,

Bill 'Chilly Billy' Cardille

, , ,
Produktionsjahr:

1968

Produktionsland:

USA


Inhalt:
Als die Geschwister Johnny und Barbra das Grab ihres Ahnen besuchen, wird Barbra von einem merkwürdigen Mann angefallen. Johnny eilt ihr zu Hilfe, wird dadurch jedoch selbst Opfer des Angreifers. In ihrer Panik gelingt es Barbra zu fliehen. Sie erreicht ein Farmhaus, wo sie auf Ben trifft, der sich dem Ernst der Lage zu stellen versucht und das Haus abriegelt. Nicht nur Barbra hatte eine unliebsame Begegnung: über Radio und Fernsehen erfahren die beiden, dass offensichtlich die Toten auferstanden sind und nun nach Menschenfleisch gieren. Doch damit nicht genug, kurz darauf stellen sie fest, dass sie nicht allein im Haus sind ...
| | | |
| --- | --- | --- |
| | Aktuelle Angebote oder ähnliche Artikel, die Sie interessieren könnten | |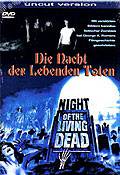 Titel:
Die Nacht der lebenden Toten - Uncut Version
RC/System:
RC-2
Anbieter:
Sonstige Studios
Laufzeit:
96 Min.
Cover:
Keep Case (Amaray)
Anzahl Disc:
1
Bestell-Nr:
d-2611
Sprachformate:
Deutsch: Dolby Digital 2.0 Stereo,Englisch: Dolby Digital 2.0 Stereo
Bildformat:
4:3 Vollbild (1.33:1)
Extras:
Kinotrailer
Kapitel- / Szenenanwahl
Interview mit Romero
Originalanfang
Altersfreigabe:

| | |
| --- | --- |
| JK geprüft | |